TECHNICAL INFO       in case of
AIRPLAIN TRAVEL
AUDIO AND EFFECTS SYSTEMS
We are autonomous for the audio system. It runs both on 220V or battery.
We also have 3 stage lamps 220V.
If you ll provide the audio system, we need RCA input or USB, and possibility to attach a microphone to each performer requested.
For "SOSPIRO" just one microphone it's enough.
If the show you are requesting needs the use of special machines:
the flamethrower machine requires 100W, for bubble machine 1000W.
To use all our machines, lights and speackers at the same time, we need a 3 x 2.5mm cable with 16A civil plug.
Total absorption of the lighting system + audio system + effects machines = 2000W (2 kilowatts)
For fire shows we need a fire extinguisher, which will only be used if needed.
FOR THE SLACK ROPE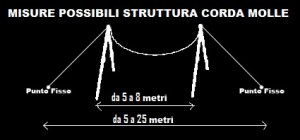 I need: 2 berths to anchor from.
Often good berths are railings of windows, hinges, poles and road stakes, manhole covers (not all of them work good), handrails … vehicles or weights … etc …  The strength, expressed in weight, that the anchors must support is 200 kg per side.
Distance between berths from 5 meters until about 25 meters.
If performing at night, I need to switch on stage lamp 220V (one or more).
We can run the shows both inside and outside.
I do not have specific for flooring.
It is possible to adapt the supporting structure to allow the slack rope shows also inside a normal house.
SET UP TIME
To set ready the scene I will just need 1 minute to set the rope up; using a hooking.
To do so, i will need time a head, about 15 minutes, to tencion up the rope, then i will mark the rope and detach it until needing.
FOR FIRE
Possible to play it only outdoor.
Best with soft lights from surrounding.
In case of complete darkness, need to plug on softened show lights 220V.
Mininum for the execution space: a semicircle, a radius of 5 meters.
Best space size for the execution: a semi-circle, a radius of 10 meters
Given the effects type we recommend performing nightly.
For fire shows we need a fire extinguisher, which will only be used if needed.
SET UP TIME:
Setting time for full fireshow;
About 5 minutes to put in the right places of the scene all the juggling objects.
I need around 25 minutes to deep and prepare all the tools and juggling materials before the play time. I can prepare this some far from playng area.
For fire shows we need a fire extinguisher, which will only be used if needed.
OTHER
FOR "SOSPIRO" SHOW:
Best in quite soft light.
Need of slack rope.
We use plenty of fire, including fireworks.
SET UP TIME:
To set up the scene we need about 2 hour and half.
That's the time it takes for to set up the rope, set up for fire, to mount the pyrotechnics, the lights, the audio system, the show machines, make sure everything is safe, wear the scene clothes …
 TECHNICAL INFO TECHNICAL INFO TECHNICAL INFO TECHNICAL INFO