SPECIAL EQUIPMENT
Here you can get curious on some of owrs effects  for shows.
We have a special love for special effects!
An example? We reserced for to give a special touch on flames: the first amazing think it's about the colours…
As you can see from the image, the 3 meters high flames that owrs flame throwers can send in the air.
Those machines can produce different colors such as:
Blue – Red – Purple – Green – Yellow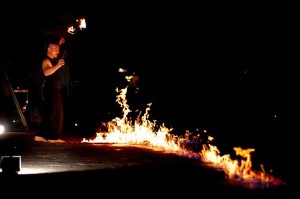 Still reserching on flame colors, but wonting to obtain a diferent "consistency" we have liquid flames to pour.
That's a gorgeous effect, surprising an surreal. We have it on Blue, Green, and Yellow. And it is possible to have them in the scene at the same time whithout lose the contrast between colours.
An other amazing effect it is the one produced by owr Bubble Machine, and it is not a usual one…
This machine manages to produce both plain bubbles or bubbles filled whith smoke!
In the video beside you can see the wonderfull and uncommon look they give.
Yes filled smokey bubbles, and when they pop they releas their content adding an other suggestive effect.
This machine, on plus, uses some led tecnology so that in deam light (as for a fire show) bubbles can have a colored look.
It is possible to set the smoke-producing part of the bubble machine so that bubbles get filled on UltraViolet light reacting smoke, can you immagine how it can look?!
And again, owr smoke makine have the led light tecnology so to allow us to colore owr smoke.
How else could the pyrotechnic aspect be missed?
We like to use pyrotechnic fountains of various kinds within our scene, different heights, colors and effects are the norm.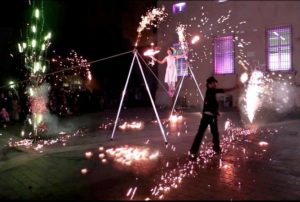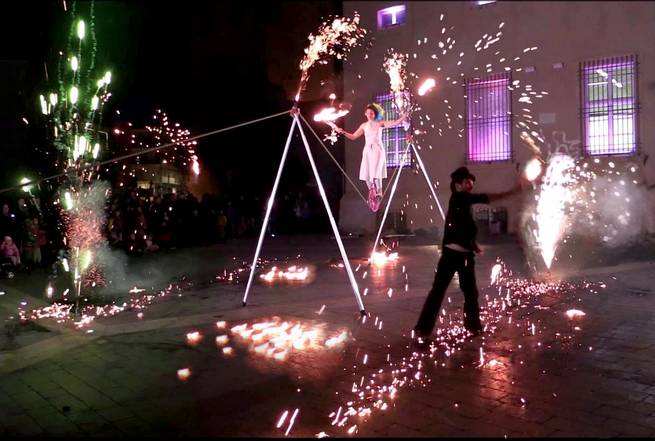 i i i i i i i i i i i  SPECIAL EQUIPMENT SPECIAL EQUIPMENT SPECIAL EQUIPMENT