Stage numbers – JoriK
---
VOLARE
Singing the hyper known song, symbol of italian carefree, our Jorik performs on her wire parodying words and tones of the song with positions and effort due to the complicate evolutions.
Serenely comical number, memorable; in the sense that often, some hours after the show's end, still feels echoing from mouth to mouth the beautiful song ( with laughter annexed:)
---
OVEST
an energetic number, electrifying, strong.
A " free body " on slack rope, excellent balance technique.
Gaillard music, that projects people in the brilliant desire to "be right here", to see the success.
---

LAPSE BALLERINA
It's about observing "Irina", great Russian classical dancer.
This First Ballerina makes her glorious appearance on stage.
Full of grace is loved by his audience, and begins her graceful performance, but it soon becomes clear that she has passed the peak of her success, demonstrating it in a long series of falls of style, adapted to a superb technique of balance on the slack rope,
It results in a comical jaunty.
(not spoken number)
---
HIGH WAY FROM HELL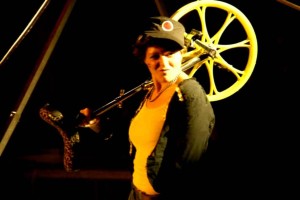 To the sound of the homonymous song from AC / DC, we see "Jorik" enter with the unicycle in her shoulder.
It is a very Rock scene.
The rope is waiting, to see excellent demonstrations of high technique, only of unicycle on slack rope.
At the rhythm of this energetic song we will attend to determination to sell!
(not spoken number)
---
THE JOKE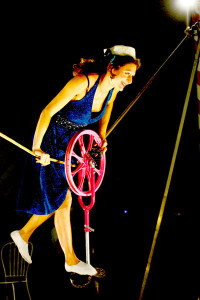 Telling a joke? Unicycling on the wire it's a nice way!
Combine a spoken joke and his mimicry, in a so precarious balance it is definitely more effective.
---
HANDSTAND ON VOLUNTEERS

(whithout rope) Cheerfull.
Interaction with public, and with the choice of two fearless volunteers, to transform us in a tritticol of improvised acrobats.
The common goal:bPerform a difficult handstand on volunteers, 3 meters up high!
Exciting and exhilarating, this number uses the difference between humans and the simplicity of the dialogue and relationships that are created, spontaneous.
Adaptable also to places with ceilings not so high.
(Possible in both spoken and silent)
---
REFLEX UKULELE

A silent and thoughtful number.
Catalyst of attention, played live.
We se on stage only a ukulele and a not musician actress, who goes to manipulate the energies and emotions of the public, channeling towards the song that will crown and end of this delicate performance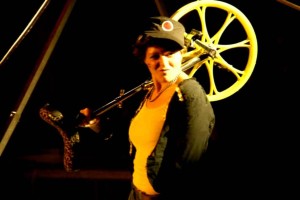 ---
Stage numbers – JoriK Stage numbers – JoriK Stage numbers – JoriK