moving by airplane
Details for to move by airplain both artists and shows.
FOR ANY QUESTIONS DO NOT HESITATE TO CONTACT US
SOUND – LIGHTS SYSTEM
We have an head microfon, for music we have usb key or mp3 reader.
We prefere sound system and (if necessary) light system be provided by the event organisation.
We actually have a small sound system transportable by plane, and 2 led lights. However, the weight of this material could outweigh the baggage (for the base ticket) from some airlines companies.
---
FOR THE ROPE
IT IS POSSIBLE TO MOVE THE ARTIST AND HER SHOW, BY AIRPLANE, BUYNG JUST 1 BASIC PLAIN TICKET.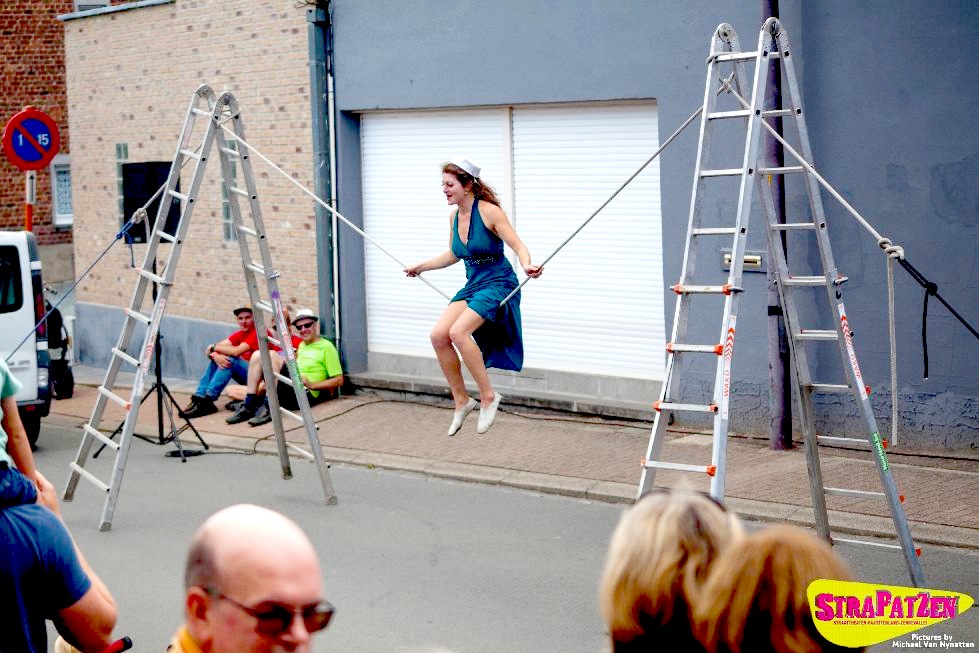 The size to bring the rope structure when closed for transport it is 155cm x 12cm x 12cm.

This requires additional specific luggage.
It is possible to lighten the costs of air transport with this stratagem:
Putting in place 2 solid ladder, allows not to carry the structure by plane   BUYNG ONLY THE PASSENGER BASE TICKET.
I have all the necessary ropes and hoock, and I'll handle mounting ladders and ropes by myself.

I WILL NEED

2 strong ladders. The preferred ladder type is the extensible type shown in the pictures.
LADDERS MAY DIFFER BY MODELS AND HEIGHT: The heights can differ by up to 1 meter.
IT IS ALSO POSSIBLE TO EVALUATE THROUGH PHOTOS IF THE LADDERS ARE FINE.
I can play the great final, both by fire juggling or non-fire juggling. If the required show has fire juggling, then I will NEED a right fire fluid (barbeque liquid is fine).
TO ATTACK THE ROPE
Will be neededed two anchorages points of at least 250kg 

for each rope heads

 (on the suggestion of the surveyor).
weights taken there in purpose as pillars, weights filled with water…
Columns
Lintels of windows and doors
Hinges
Poles and roadblocks
Manhole (not all)
Handrails
Trees
…and others…
It is POSSIBLE TO MAKE EVALUATIONS OF THE POSSIBILITY TO ATTACK, THROUGH PICTURE. My fifteen-year experience leads me to have "technical eye", and to see hung possibilities that others would not see.
FOR ANY OTHER SPECIFICATIONS CONSULT THE TECHNICAL DATA SHEET
---
FOR FIRE SHOWS
THE ARTIST AND THE EQUIPMENT CAN BE MOVED BY AIRPLANE JUST BY BASIC TICKET
As you can imagine, it is not possible to bring fuels into the airplane.
Some materials can be purchased locally, for the rest we will have to SEND IT WITH COURIER SERVICE. (Bartolini – TNT – UPS …)
Depending on which performance required it varies the weights of the material to be shipped.
The cost for to send, let's say, 12kg from Milan to Bruxelles it is about 50€
FOR ANY OTHER SPECIFICATIONS CONSULT THE TECHNICAL DATA SHEET
moving by airplain